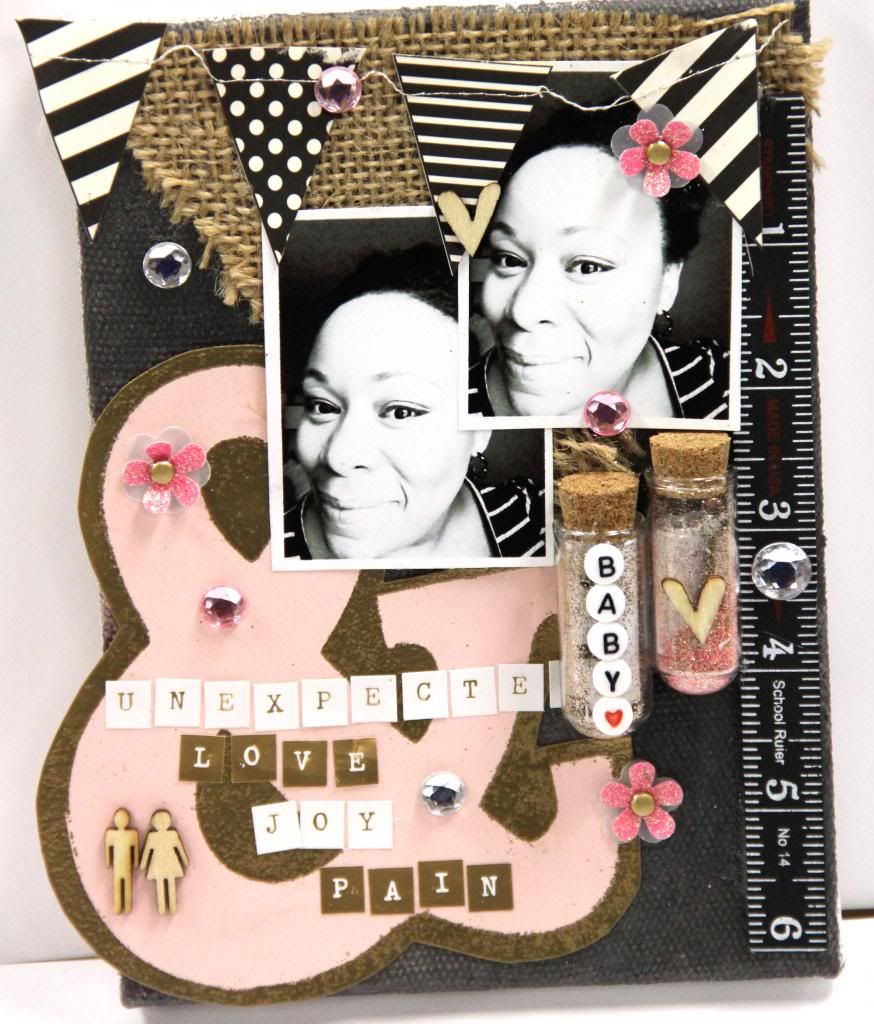 I've been watching Marion alter canvases thinking, "That's so awesome and something I could never do." I mean this is a project that goes on display. It's not tucked away in a album or sent off as a gift for someone. Canvases were made to be displayed and that meant my perfectionism has always whispered, "Don't even try it, girlfriend."
Well, Perfectionism. You can just SHUT IT because I DID IT and I LOVE IT!!! That flaw of perfectionism has just be beaten. Oh Yeah!! Toot Toot!!! <INSERT HAPPY DANCE>
I started this project off knowing only two things: I wanted to use these two pictures of me and I wanted to use the new Tattered Angels Chalkboard mist that I'd just received. That was it. Little did I know how special this project was going to turn out for me.
The Prep & Background ::
The first thing I did was to gesso my canvas. This turned it from a natural canvas color to bright white. This also meant the fabric wouldn't soak up the Tattered Angels charcoal chalkboard glimmer mist so I didn't have to use too much product to produce the color I wanted.
I used the Ampersand mask from Studio Calico to create a mask image while I sprayed the background. I should have waited until the canvas was dry to remove the mask but I'm an impatient crafter and I removed it too soon and mist got into places I did not want. So I had to think of a solution.
The Fix:
I took the same mask and traced it onto a piece of pink card stock from PapertreyInk. I cut around the traced image leaving a 1/4 inch border. Leaving the mask on I inked the entire cut out with versamark in and embossed it with pirate gold embossing power from Stampendous.
For the top of the canvas I used a piece of a Canvas Corp burlap diamond. I cut it in half then removed the seam and only used one side to add the large pennant shape behind the photos.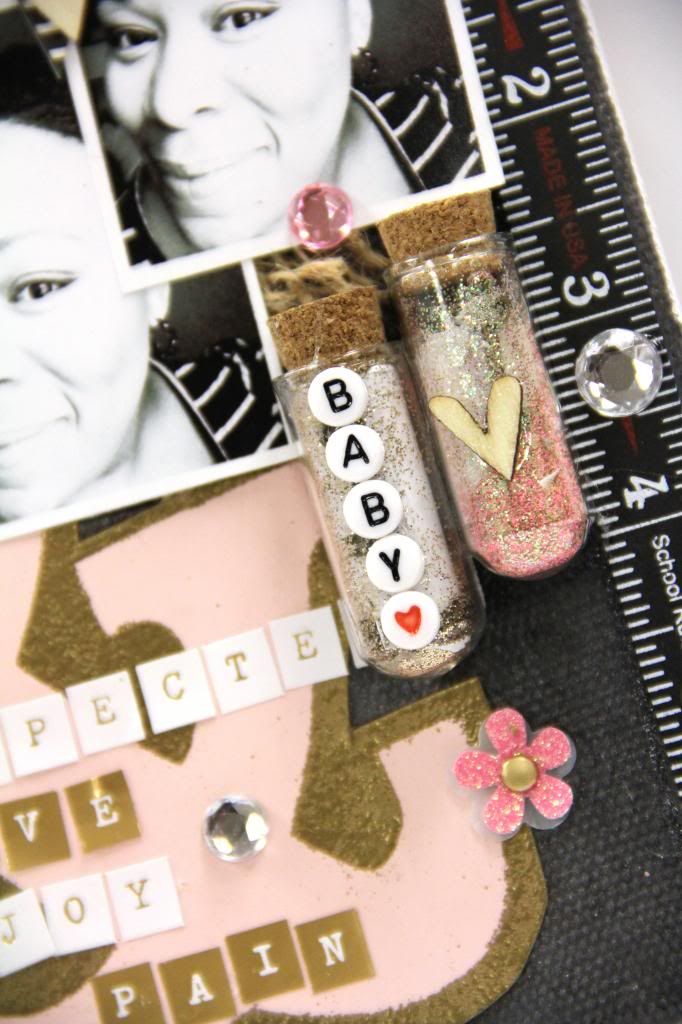 The Embellishment ::
7Gypsies Dome Apothecary Jars, Martha Stewart smoky quartz glitter, Canvas Corp diamond burlap shapes, Canvas Corp hemp cord, 7Gypsies antique brass mini keys, 7Gypsies school rulers display trim, Dear Lizzy white and gold letter stickers, Black and White sail away sampler, Ranger candy pink embossing powder.
This project is near and dear to my heart for a couple of reasons......
It really helped me channel my feelings of loss about my recent miscarriage.
I'm able to display it without having to frequently explain or talk about the loss.
It's a great subtle reminder of my little angel baby.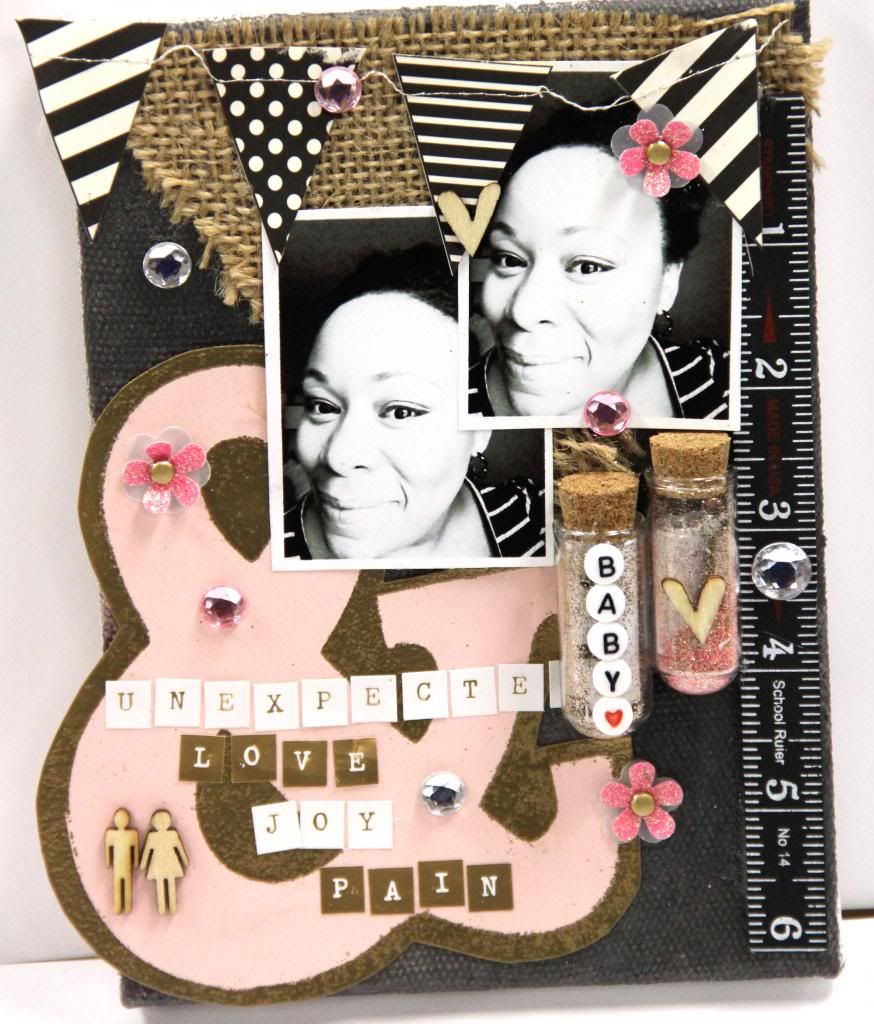 Thank you so much for stopping by. Have a great weekend.
Always,
Angela