I had a blast creating these projects for Canvas Corp, Tattered Angels, and 7 Gypsies. I must admit that I forgot to take pictures of two additional projects before I sent them out. Oops. My excitement got the best of me.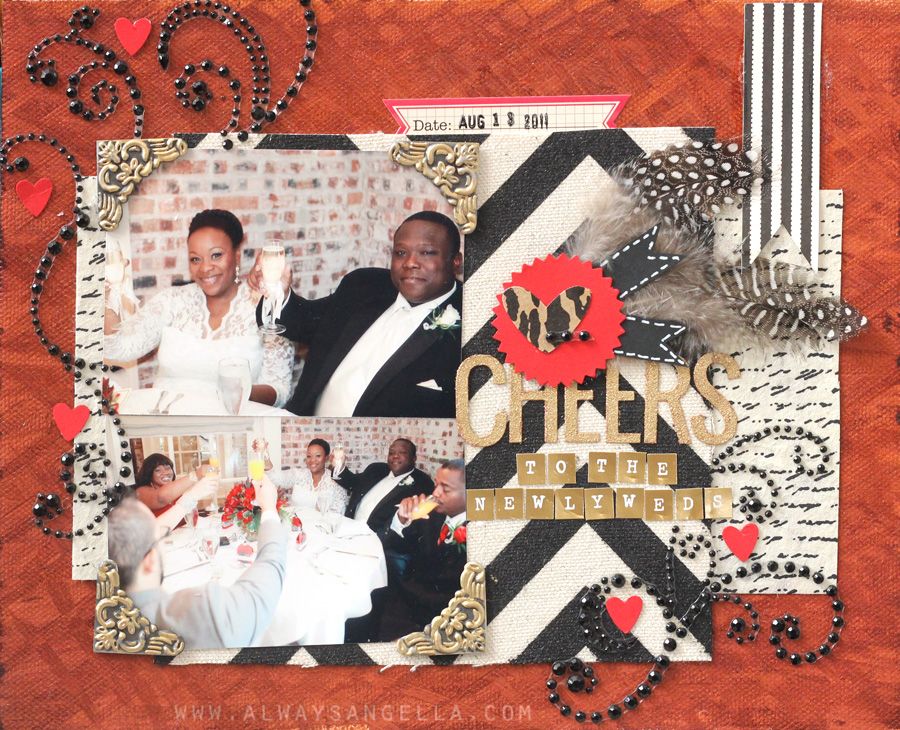 For this layout I used the 7 Gypsies (Insert Name Here) for the background. I used a (insert foundation name here). I attempted to do a woodgrain texture but I
totally screwed that up
decided to do a parkay floor texture. It turned out great. Loved the depth of color.
I wanted the papers I used to reflect the colors of my wedding so I decided to use a couple of the Canvas Corp canvas printed papers in black/cream. The black/cream chevron is printed canvas and the text paper is mulberry paper (i think). They were both gorgeous and so easy to adhere using the Canvas Corp mixed media adhesive. I absolutely love that stuff.
For my next project I used a few pictures from my city's big 4th of July celebration. They matched perfectly with the colors of the patterned papers in the Canvas Corp collection. I threw in the anchor paper to reflect Houston's booming businesses.
I also did a bit of stamping around the edge of the background paper with a stamp from CTMH. I also made some frames from leftover canvas I used to make a banner earlier. (I forgot to take pics of the banner). A bit of cord, hand cut canvas pennants, and some strategic paper placement completes this layout.
I had so much fun making these projects and am looking forward to displaying them when they make it back from the show.
Thanks for stopping by.
Always, Angela
www.alwaysangella.com